Our Mission
The Historical Society of Kent County, Maryland, is a non-profit organization dedicated to the collection and preservation of artifacts, documents, and information that aid in the interpretation of all aspects of Kent County's history. The Society shares this information through its research library, museum space, programs, publications and website in order to foster a knowledge and understanding of the shared heritage of the community. The Society supports and encourages the preservation of historic buildings and sites throughout Kent County.
Learn more about The Historical Society.
Announcement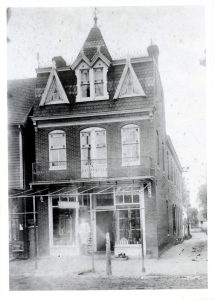 Saturday October 13, 2018, 6:30-8:30
Ghost Walks of Historic Chestertown
Every Saturday in October tours will begin at 6:30 and run every half hour until 8:30. These times are subject to change according to demand and reservations.
Chestertown, known for its historic houses, boasting more 18th century homes in use than any Maryland community except Annapolis, has seen more than three hundred years of history, offering a stage for the lives of sea captains and merchants; Revolutionaries and Civil War soldiers; farmers and watermen; a stage so compelling that perhaps some of the players never wished to step off of it. Or so the stories go.
Our Ghost Walks share some of the odder tales of local lore, including those of murder and mayhem. From the tales of a haunt in the attic of the house where George Washington really did sleep, to the Court House Ghost that made international news a few years ago, guides will walk ticket holders through centuries of stories, told against a backdrop of local history. The ghost tales were collected from folklore – such as the eloping maiden and the blood stained rock of White House Farm; stories passed down through generations, including accounts of eerie lights in the cemetery where murderers were buried; and contemporary interviews with local residents and business owners.
We're not here to tell you our houses are all haunted, but that many of them have some really unique, and quite often strange, stories as part of their past – and present.
Please call or submit the form below to reserve a space. Tickets are $12.00 for adults and $5 for children 12 and under. Private tours for groups may also be arranged at other times by appointment. Call 410-778-3499, or email director@kentcountyhistory.org. Tickets may also be purchased at time of tour if available.
Become a member of The Historical Society and receive:
Journal: The Key to Old Kent (non-members pay $5.00)
Unlimited use of our Genealogy and Local History Research Library
Discount on Genealogical Research Services
And more!
Learn More