The Historical Society

of

Kent County
Kent County History at a Glance
Kent County's documentary history starts in 1608, when the first Chesapeake Bay mapping expedition, led by Captain John Smith, mapped the Sassafras River, the county's northern border today. In 1642, Maryland's governor and council formally established Kent County at Kent Island and encompassing nearly the whole Eastern Shore. As settlements increased, smaller counties formed within the region, and, in 1675, the Kent County seat was moved to near Chestertown.
In 1706, Chestertown was named a Royal Port of Entry, making it the primary port for the upper Eastern Shore and leading the county to flourish in trade, culture, shipbuilding and agriculture. A significant part of Kent County's prosperity in the 18th and 19th centuries was the work of enslaved people, but also that of free black entrepreneurs, laborers and artisans who, by 1850, were more than a quarter of the county population.
Kent County also lay along the shortest route from Virginia to Philadelphia, making it a stopover site for several founding fathers, including George Washington. In the mid- to late 18th century, many substantial homes and businesses were built, and today Chestertown has the largest number of 18th century buildings in Maryland, except for Annapolis.
Visit Us
Our home is in the heart of Chestertown's National Historic District at the Bordley History Center, at the corner of High and Cross Streets (301 High St), itself a historic building rebuilt in 1910 after a devastating fire swept through our commercial downtown.
Our museum is open Thursdays and Fridays from 11am to 2pm and Saturdays from 10am to 1pm.
Our Mission
The Historical Society of Kent County, Maryland, is a non-profit organization dedicated to the collection and preservation of artifacts, documents, and information that aid in the interpretation of all aspects of Kent County's history. The Society shares this information through its research library, museum space, programs, publications, and website in order to foster a knowledge and understanding of the shared heritage of our community. The Society supports and encourages the preservation of historic buildings and sites throughout Kent County. Donate
Learn more about The Historical Society.
Walking Tours
HISTORIC CHESTERTOWN WALKING TOUR NOW PAPERLESS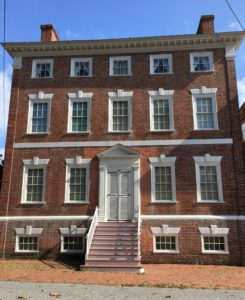 Chestertown's walking tour of its iconic historic homes now has a paperless alternative.
The original Architectural Tour was commissioned by the Town of Chestertown and was written by local historian Robert J.H. Janson-LaPalme. The Tour has been a staple for Historic Downtown Chestertown visitors since it first appeared in 1985. The Society's online version is produced with permission of the Town.
The paper version of the Tour will continue to be available through the Kent County Office of Tourism, the Visitors Center on Cross Street, and the Bordley History Center at 301 High Street.
Please click here to enjoy the Walking Tour!
The Historical Society also offers guided walking tours! For more information, please contact us.
Exhibits
Our current exhibit is a selection of architectural drawings by famed local preservationist and author Michael Bourne.
The Historical Society has other exhibits throughout the county at the Cerino Center, the County Office building, and at the Galena branch of the Kent County Public Library.
For past exhibit brochures, click here.
Programs & Events
Annual Holiday Party
Friday, December 15
Come and celebrate the holidays at the Historical Society!
Event Signup
Research
The Historical Society of Kent County Library collection includes thousands of items pertinent to regional history including reference works, manuscript collections, documents, ledgers, maps, genealogies, cemetery records, photographs, and oral histories.
Learn More
Membership
The Historical Society of Kent County always welcomes new members. You do not have to live locally to join; a number of our members support our efforts from afar. If you are a resident, however, we hope you will not only become a member, but join us at our events and activities, or consider volunteering. We offer a welcoming venue for community involvement for all ages. A donation of $25 is required for an individual membership, and a donation of $40 is required for a family membership. Student memberships are free.
Register online securely now with Square or send your check to our office at P.O. Box 665, Chestertown, MD 21620. Please include your email address as we communicate with our members primarily by email.
Learn More
Contact Us