The Historical Society

of

Kent County
Our home is in the heart of Chestertown's National Historic District at the Bordley History Center, itself a historic building rebuilt in 1910 after a devastating fire swept through our commercial downtown.
The Bordley History Center's first floor houses our museum and gift shop. The second floor houses our research library and our administrative offices. Our library is open only by appointment.
Our museum features window exhibits and interior museum exhibits, which change quarterly. The museum also contains our extensive collection of local family genealogies and a long-term exhibit of 18th and 19th century tea caddies. Our window exhibits, which flank our front door at 301 High Street, are always open. Our museum is open Thursdays and Fridays from 11am to 2pm and Saturdays from 10am to 1pm.
Not a member? Join today by clicking "About Us" above and then membership.
Our Mission
The Historical Society of Kent County, Maryland, is a non-profit organization dedicated to the collection and preservation of artifacts, documents, and information that aid in the interpretation of all aspects of Kent County's history. The Society shares this information through its research library, museum space, programs, publications, and website in order to foster a knowledge and understanding of the shared heritage of our community. The Society supports and encourages the preservation of historic buildings and sites throughout Kent County.
Learn more about The Historical Society.
HISTORIC CHESTERTOWN WALKING TOUR NOW PAPERLESS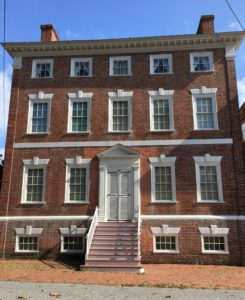 Chestertown's walking tour of its iconic historic homes now has a paperless alternative.
The original Architectural Tour was commissioned by the Town of Chestertown and was written by local historian Robert J.H. Janson-LaPalme.  The Tour has been a staple for Historic Downtown Chestertown visitors since it first appeared in 1985. The Society's online version is produced with permission of the Town.
The paper version of the Tour will continue to be available through the Kent County Office of Tourism, the Visitors Center on Cross Street, and the Bordley History Center at 301 High Street.
The Historical Society always welcomes new members.  You do not have to live locally to join; a number of our members support our efforts from afar.  If you are a resident, however, we hope you will not only become a member, but join us at our events and activities, or consider volunteering.  We offer a welcoming venue for community involvement for all ages.
As a member, you will receive:
*Unlimited personal use of our Genealogy and Local History Research Library by appointment
*Discount on our Genealogical Research Services
*Quarterly Members' Newsletters
*Discount on books in the museum gift shop
*By Invitation Only Previews of our new exhibits
*By Invitation Only Receptions with our guest lecturers
*Preferred/reserved seating at our programs
*Invitations to our Historic House Parties and other private events (some of these may have a charge but are offered only to members and their guests)
You may become a member by making a donation of any amount.  A donation of $25 is recommended for an individual, and a donation of $40 is recommended for a family.  Student memberships are free.
Register online securely now with PayPal or send your check to our office at P.O. Box 665, Chestertown, MD 21620.  Please include your email address as we communicate with our members primarily by email.
Learn More